Leading Provider of Corporate Solutions in Australia
With offices established in 8 countries across the Asia Pacific, InCorp is the go-to provider of corporate services and business advisory for incorporating and scaling your business.
A$
650
M
Grant Funding Secured
Doing Business in Australia

With a well-regulated and transparent environment and minimal restrictions on imported goods and services, and diverse natural resources, Australia is one of the most flexible economies in the world. Boasting a landmass roughly 50% larger than Europe, "The Land Down Under" has vast and diverse natural resources that make it an attractive destination for foreign investment.
Expand your business with our global services
Incorporation
Secretarial & Compliance
Tax & Advisory
Finance Function
Government Incentives
Corporate Governance
Setting up your Business in the Australia
With our simplified approach to company formation in Australia, we enable our clients to enjoy a seamless business registration process while ensuring that their business fully complies with the country's current corporate laws and regulations.
Download Brochure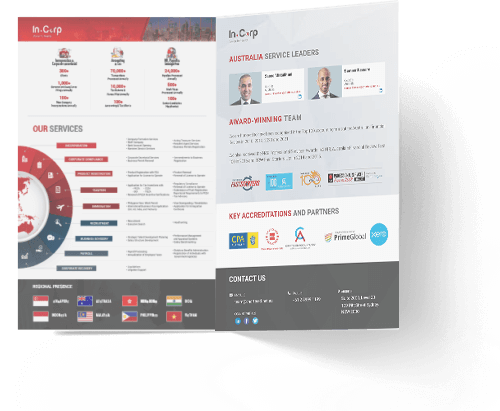 What Our Clients Say
I can't recommend the team at InCorp Advisory (AU) highly enough. We brought them on board to handle our company's R&D claim and from initial submission through to a prelim audit they were efficient, professional and delivered on every promise. I was so impressed I now even use them to manage my personal tax affairs.
Kit Lakin
Co-Founder Lendly
I've been using the services of InCorp Advisory (AU) for the past 5 years and found their contribution to my businesses practical and invaluable. From their business advisory to taxation matters right up to their virtual CFO roles, their level of engagement and commitment has been nothing short of absolute brilliance.
Avi Ramcharan
Head of Business Australia Pharmaco
Saeed and his dynamic team are always responsive and happy to lend a hand with simple and complex matters. Over the years I've recommended the services of InCorp Advisory (AU) to a number of industry colleagues and every one of them still continues to praise the efforts and capabilities of the company.
Tommy Lim
Managing Director of SF Capital