Why incorporate a company in India?
Company incorporation has come a long way in India since the Companies Act of 1956. More so, after the Companies Act, 2013, which marked a significant landmark with easing of processes of setting up a company in India. With this and other initiatives by the Indian Government put in place over the last five years, the country is now ranked 63rd in the World Bank's Ease of Doing Business rankings 2020. According to the World Bank, the country is now moving closer to international best practices. Notably, India jumped from 142nd place in 2014 to 63rd place in 2020.
While improved access to funding and mentorship are obvious benefits, catering to  one of the world's largest middle-class of almost 350 million with increasing disposable incomes, are major attractions of why domestic and foreign entrepreneurs as well as foreign companies, must seriously think about Indian company incorporation.
What are the types of business entities in India?
There are different types of business entities permitted in India.
Sole-proprietorship

Here, one person owns all the assets of the business, and reports revenues from this business along with this person income tax return. Importantly, no legal formalities are required to establish this type of business entity other than appropriate licensing and business name registration if it differs from the sole-proprietorship.

One Person Company (OPC)

Introduced by the Act in 2013, an OPC means a company with only one person as a member. Here, the shareholder can make only one nominee, who shall become a shareholder in case of death/incapacity of the original shareholder. In essence, the OPC structure enables a sole-proprietor to carry on his work while being part of the corporate framework.

Public Limited Company

This type of business entities in India have – minimum of seven shareholders with transfer of shares not restricted under shareholders rights, and has to publish a prospectus in case of public issue.

Partnership Firm

These in India are governed by the Indian Partnership Act, 1932. The maximum number of partners in a partnership firm can be 100, with profits and losses shared in manner agreed in the partnership deed. These deeds are created and registered when establishing the firm.

Limited Liability Partnership (LLP)

This structure was introduced in India by the Limited Liability Partnership act, 2008. It provides the benefits of limited liability of a company, while allowing the flexibility of organising the internal management of the company based on a mutually-agreed agreement like in a partnership firm.

Private Limited Company (PLC)

This is the most common type of business entity in India. It has the following key requirements: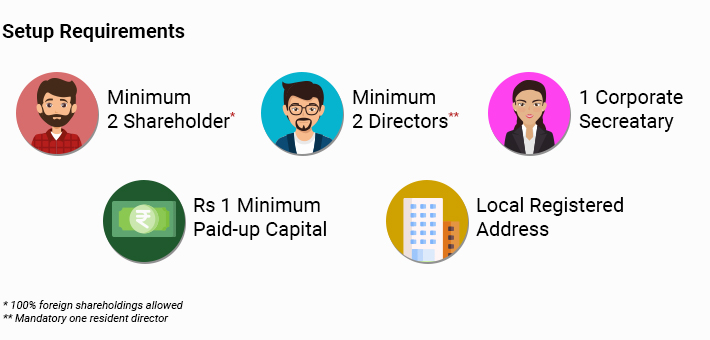 | | | | |
| --- | --- | --- | --- |
| Step 1 | Step 2 | Step 3 | Step 4 |
| Get name approval for proposed Indian Company | Incorporate an India Company | Post-incorporation formalities and work visa applications | Relocate to India to run your company's operations |
Note:
The general timeline for the above procedure  takes about a month, taking into consideration that the subscribers/ directors are based outside India and there is movement of documents through courier and Embassy Attestation process, etc.
How can InCorp help you set up your business in India?
With massive improvements in the entrepreneurial environment in India in recent years, a company registration specialist such as InCorp can help an entrepreneur incorporate a business entity in India in the least possible time, with all the pre-incorporation requirements duly fulfilled. We also help manage several post-incorporation requirements including annual filing requirements with ROC and MCA, accounting and bookkeeping, and payroll management, among other company secretarial and compliance services.
In summary, engaging the services of a corporate service provider to register an Indian company is recommended as entrepreneurs – either local or foreign – may not be fully familiar with India company law and compliance requirements. And we, at InCorp, are best placed to do this, as we have helped thousands of global entrepreneurs and companies launch their Indian ventures successfully. Count on our experienced team for the incorporation and compliance of your company, and select the package suitable to you from our range of options.
Contact our Team: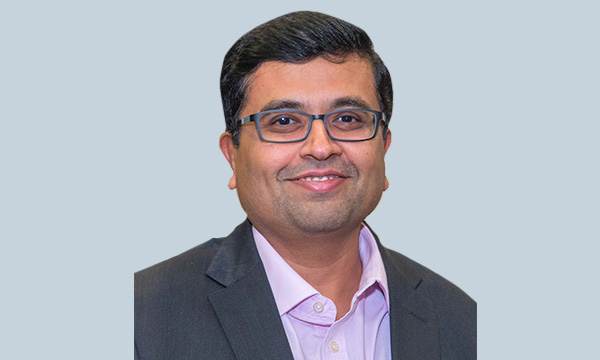 Amit Kothari
Head
Company Incorporation-India
We have a team of experienced CPA in India who can make your India company incorporation a breeze.