How to Use Employer of Record to Recruit Indonesian Talent
When looking to expand your business, you could consider hiring abroad. Indonesia has an abundance of new talent that you may be interested in – this is when you could consider using an Employer of Record (EoR) service to broaden your hiring pool.
An EoR service provider bears the legal responsibility for managing a company's employees – giving them more time to focus on other aspects of their business.  Their responsibilities include but are not limited to recruitment, payroll, and work permits.
While the Employer of Record service provider legally holds employment contracts, your company would still have autonomy in terms of day-to-day operations. Your company will still make all the final decisions in business strategies as well as employee management and supervision.
---
Using an EoR Service in Practice
There are a variety of circumstances when expanding your business abroad where having an EoR service provider would be especially helpful. Here are some situations where an EoR service provider would be worth considering if you are:
1. Looking for a more efficient way to enter the Indonesian market
Establishing a foreign-owned business in Indonesia costs a lot of time and money. With a minimum paid-up capital of IDR 10 billion and a timeframe upwards of 6 weeks, it may not be worth the risk.
If you use an EoR service, they would already have a registered business that will swiftly aid you in the hiring and recruitment process. This is especially useful if you need to expand your workforce in Indonesia quickly when there is higher demand in your business.
2. Not wanting to worry about the legal responsibilities of hiring
EoR service providers in your target country are always up to date about labor laws and policies that are constantly changing. While also ensuring your employment affairs are compliant with Indonesian law, they will also consistently ensure all your payroll-related activities are handled.
Your EoR service provider is legally the employer of those you decide to recruit, and they bear complete responsibility for your operations in their country – this mitigates a significant amount of risk for your company when hiring in Indonesia.
3. Looking for a simpler recruitment process
It can become tedious when it comes to recruiting new employees, and using an EoR service can significantly simplify the process. You can outsource some HR responsibilities to your EoR service provider, and they'll handle the recruitment process from start to finish.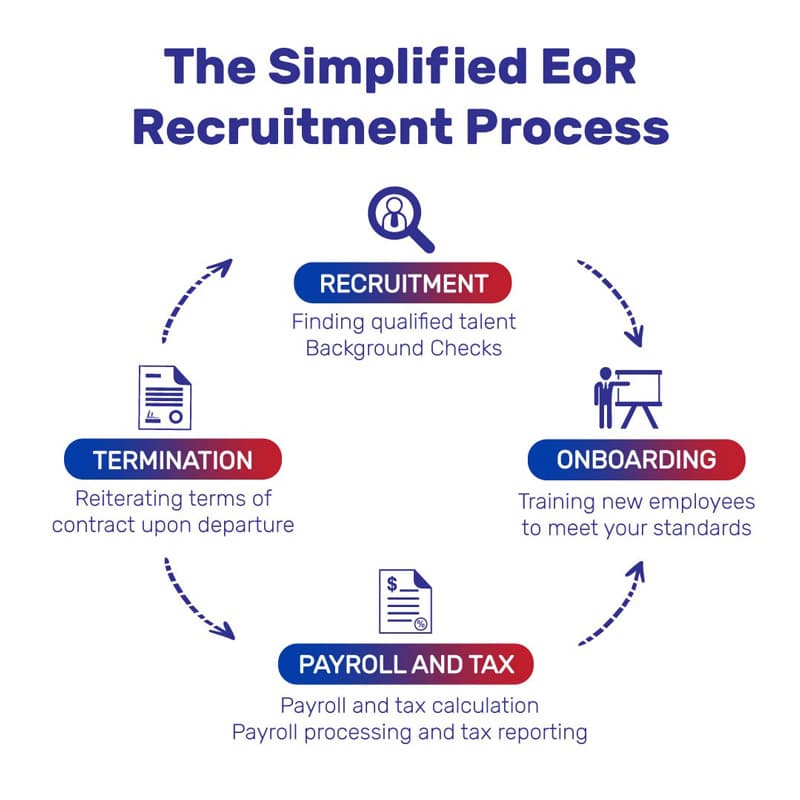 ---
How InCorp can help
Using an Employer of Record service in Indonesia opens the doors to new opportunities in the country. Here are some ways InCorp can help you push farther into the Indonesian market:
Set up a company & enter the market on a larger scale if you're satisfied with how your product or service performs in Indonesia
Apply for a work permit (aka a KITAS) if you want to work in Indonesia after you've set up your company
Tax and accounting services to facilitate financial reporting as well as the payment of income & corporation tax
Employee background check
---
InCorp also offers the following EoR services in Indonesia:
If you're ready to consider InCorp as your Employee of Record service provider, here is our full list of EoR services to keep in mind:
Recruitment and Candidate Shortlisting

Appointments and Employment Agreements

Payroll processing and Salary Adjustments
Employee Benefits and Insurance
FAQs
How long is the process of establishing InCorp as an Employer of Record in Indonesia?
As soon as you decide you'd like us to be your Employer of Record, the onboarding process will immediately start and will take approximately 5 days with our HR and Payroll department.
What requirements would you need to meet for us to become your Employer of Service Provider?
You will need to have an established company that meets your home country's requirements, and agree to a 2-month salary deposit for a fixed-term employment contract.
What documents will you need to start the Employer of Record Process?
You will need your potential employee's documents (KTP, KK, BPJS cards), as well as employee benefits information such as salary and other benefits.
What is the difference between PEO and EOR?
A comparable service to EoR is Professional Employer Organization (PEO). EoR's and PEO's are similar in that they both assist with outsourcing human resources services, but differ in legal responsibilities.While a PEO may also assist you in recruitment, your company will still hold employee contracts. This means your company will still bear all legal liabilities when hiring but a PEO takes on your employees and is responsible for anything HR-related.
In contrast, an EoR is the legal employer of those your company hires, meaning they hold employment contracts – EoR's put your business and employees on their payroll.
Ready to expand your business and hire the right employees in Indonesia?