Trade Marketplace Solution – Powered by JEDTrade
With our smart, flexible and trusted Trade Marketplace solution, you can optimise win-win outcomes between buyers and suppliers, enhancing trade relationships. Powered by our partner JEDTrade, the solution allows for:
Easy access to your entire network of buyers and suppliers in a few clicks
Verification of optimal rate and timing of early payment for both your buyers and suppliers, to achieve maximum business sense
Collation and organisation of responses from multiple buyers and suppliers efficiently, with downloadable reports for easy decision-making and user management
Alternative financing outside of banks, hence saving on interest costs
Key Features of Trade Marketplace Solution

Secure

Dynamic

Fast, Hassle-Free
and Easy to Use

Bilateral trade relationships that are visible and accessible only to each supplier-buyer pair
Dynamic mechanism optimizes win-win outcomes between suppliers and buyers
No complicated system integration required – companies can continue with their existing invoicing and payment process/arrangement
Trusted cloud – 50% of Fortune 500 uses Microsoft Windows Azure Cloud
Smart technology enables efficient handling of large amounts of trade data and variations
Downloadable reports for User management
Benefits as a Supplier
Suppliers will be able to advance cashflow in the most efficient and organised manner, especially for industries that typically sell to a large network of downline distributors, resellers and end buyers (i.e. wholesale distribution of food, electronics/IT, industrial goods and general trading).
Sample Supplier Scenario
Mr Wong* is a wholesaler of poultry and has a downline network of more than 1000 distributors and end buyers that include supermarkets and F&B outlets. At any point in time, his outstanding receivables are $2m with an average 60-90 days life cycle. Through JEDTrade's Supplier module, he is able to find the easiest way to advance cashflow from his trade buyers at e.g. 2% discount, as long as it is cheaper and faster than borrowing from the bank. At the same time, he is able to provide savings to his buyers for making early payment.
Benefits as a Buyer
Buyers will be able to earn better returns on their available cash by setting their desired discount yield in return for early payment on their selected payables. As a result, sustainable supply chains are created and smaller suppliers who need to advance cashflow can now be supported with an early payment option received from their buyers.
Sample Buyer Scenario
Raelyn Group* is a hotel chain that uses JEDTrade for its Buyer module. At different times of the month, the Group may sit on excess cash positions of $1m. Through JEDTrade, it is able to earn returns of 5% p.a. by offering early payment to its upline network of 500 suppliers, who may wish to be paid early in return for giving Raelyn its target discount. In this way, Raelyn is able to earn higher returns of 5% p.a. vs a fixed deposit placement that earns less than 1% p.a. Its smaller suppliers can also choose to be paid early if cashflow is the key motivation at that point in time.
About JEDTrade
JEDTrade is a digital trade platform that connects suppliers, buyers and lenders to make trade and working capital flow more efficiently for businesses. The platform is built on smart data architecture to facilitate dynamic trading mechanisms between trade partners that are leveraged on open account credit terms. The objective is to help businesses find and unlock financial value from their organic supply chains, which is the easiest and most direct avenue to optimise trade and cashflow for the business.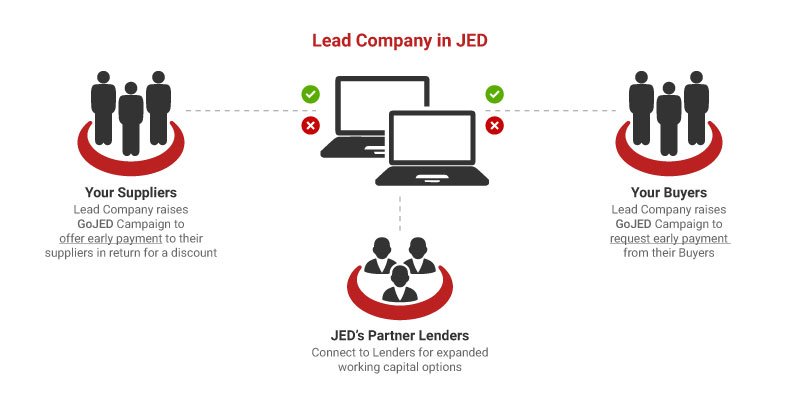 In terms of productivity, JEDTrade's technology is able to collate and generate optimal cost-benefit outcomes for large trade networks that cannot be organised efficiently or analysed meaningfully via a manual process. If additional working capital is required, JEDTrade also helps connect with partner lenders to expand these options for users.
Optimise the rate / timing of payment between buyers and suppliers, and enhance your trading relationships
Make workflow capital management effortless with our Trade Marketplace solution (powered by JEDTrade). Your company's financial health has never looked rosier.