Financial & Operational Resiliency – Enterprise Programme (FOR-EP)
The year 2020 is marked by tectonic shifts in our operating environment and major uncertainties. Just as Singapore is beginning to recover from its weakest economic growth in 2019 since the 2008 Financial Crisis, the recent unrest in Hong Kong coupled with the COVID-19 outbreak has further impacted our tourism, logistics and aviation industries. Besides dampening our visitor arrivals, the virus outbreak has also disrupted supply chains and created ripple effects on all sectors of our economy.
As part of our efforts to stabilise and support companies, we have developed a programme – Financial & Operational Resiliency – Enterprise Programme ("FOR-EP") to assist you in navigating the near-term challenges.
What is FOR- EP?
The Financial & Operational Resiliency (FOR-EP) is a programme initiated to help all small to mid-sized companies who are grappling with:
declining profitability
poor/negative cash position and unable to satisfy cash obligations
high-gearing ratio
This programme is a highly customised diagnostic tool to highlight current/potential risks of your business, from both profitability and cash flow perspectives. The FOR-EP approach is designed to understand your business and capture your revenue model and cost drivers in a snapshot. With a set of financial KPIs developed, we will provide you with a high-level analysis of your company's financial performance, which includes:
Financial model:

A simplified financial model is created to provide Company a forward view of its financial position based on the current operating conditions.

Understand Impact Tolerance:

Identify and highlight the existing/potential weaknesses/gaps for business based on KPI results.

FOR Report:

Get robust and coherent reporting with the findings and any immediate remedies that can be adopted.
---
How can FOR – EP enhance your business's Financial & Operational Resiliency?
Depending on the findings in your "FOR-EP" report, our professional team of advisers will assist you in: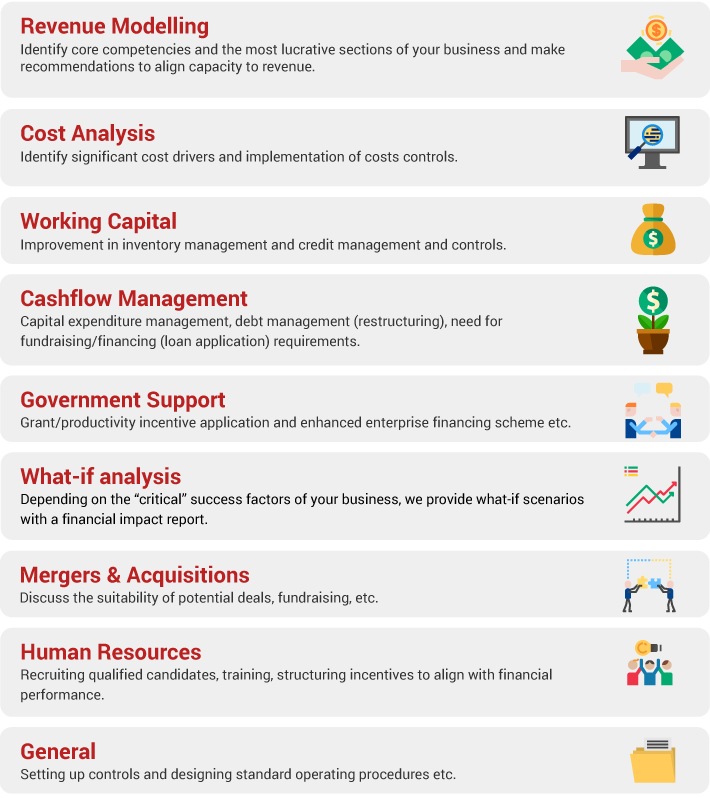 ---
How can we get started with your Financial & Operational Resiliency?
Provide us with a brief description of your business
Sending us your audited financial statements and management accounts of the past 2 years and management account and general ledger of the current year.
---
FAQs on Financial & Operational Resilience
Financial & Operational Resilience is the ability of firms to absorb and adapt to distresses in the economy and build continuity for critical economic functions.
During the COVID-19 situation which has affected mainly Asia, businesses need to get the FOR-EP report and decide on the next move to get your business back in shape.
If all the documents are in order, InCorp can provide the FOR-EP report within 3 to 5 working days and carry out a discussion with you.
Businesses can generate synergies across business strategies, reduce financial and operational risk, enhance customer trust and be positioned for new moves in the business. This helps companies to allocate resources more efficiently.
---
Contact our Team:
InCorp sees the urgent need to help companies ensure they remain resilient both financially and operationally. Our experts are here to assist.