If you are looking to start a business in Vietnam, you are in good company — Vietnam is one of the fastest-growing economies in the world, with 4.48% GDP growth in 2020. It's little wonder then that Vietnam is incredibly popular for those wishing to start a business — the outlook is bright, and the local middle-class population is believed to be the fastest-growing in Southeast Asia.
Favourably, there are no minimum or maximum capital requirements for setting up a business in Vietnam (with some exceptions), making its entry extremely accessible. You can also invest in your business using any currency for maximum flexibility.
Vietnam's entrepreneurial appeal extends to its increasingly simple process for starting a business. However, as with any country, there are some hurdles, so let's look at an overview of how you can start your own business in Vietnam.
---
Most Common Business Legal Entities in Vietnam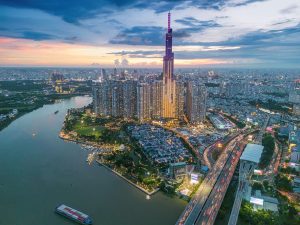 Generally speaking, there are two standard legal classifications for businesses in Vietnam:
1. Limited Liability Company (LLC)
1 to 50 founders/owners.
1 to 3 months of setup time.
Cannot have shareholders.
No specific requirement for initial capital as long as it is sufficient (real estate and education are the exceptions here).
2. Joint Stock Company (JSC)
At least 3 owners but there is no limitation on the maximum number of owners.
1 to 3 months of setup time.
No specific requirement for initial capital as long as it is sufficient (real estate and education are the exceptions here). VND 10 billion (US $434,000) initial capital is required if the company is publicly listed.
---
Requirements for Starting a Business in Vietnam
Capital Requirements for Starting a Business in Vietnam
As mentioned, there are no minimum capital requirements for starting a business in Vietnam for most industries. Specifically speaking, however, the Vietnam Government requires a new business to have 'sufficient capital'. This means you must have enough capital to cover your expenses until the business becomes self-sufficient.
We find most businesses open with around VND 230 million (US $10,000). Still, we've also seen some smaller-scale businesses open with as little as VND 69 million (US $3,000). Either way, the Department of Planning and Investment will review your capital to ensure it is sufficient to get your particular business off the ground. This capital will be listed on your Business Certificate, and any change to your capital will require amendments to your company documents.
The full list of sectors that do require capital requirements is as follows:
Vocational schools
Finance and Fin-tech
Real estate companies
Language centres
Insurance
Banking
Foreign Ownership Requirements in Vietnam
In fact, Vietnam does allow 100% foreign ownership of a business in the majority of industries. Significant exceptions are logistics, advertising, and tourism, for which you will need a Vietnamese Joint Venture Company.
Generally speaking, foreign ownership regulations follow the World Trade Organisation (WTO) guidelines. However, there are some cases where some industries are neither covered by WTO guidelines nor by local laws — if this is the case, you will need approval from the ministry in charge of that industry.
Interested in Starting a Business in Vietnam?
---
Resident Director Requirements in Vietnam
Vietnam requires all companies to have at least one director who is a local resident. While the director does not need to have residency at the time of incorporation, they will need to have a Vietnam residential address.
If a director is also a founder/owner of the company, they are not required to obtain a work permit, but they will need to apply for a work permit exemption.
If a director is not a Vietnam citizen, nor a company founder/owner, they will be required to obtain a Vietnam work permit.
Registering Your Business Address in Vietnam
All incorporated businesses operating in Vietnam are required to have a registered business address. While most service-based companies are allowed to have a virtual address, while most goods-based companies (e.g. retail, manufacturing, etc.) must have a physical location for their business address.
Documentation Required for Business Registration in Vietnam
Business plan
Financial documents to establish the founder's/owner's financial capacity
Corporate profile establishing the founder's/owner's professional experience
Legal representatives' current residency
Passports, driver's license, or other identification documents
Articles of Association
Enterprise registration certificates, decisions of establishment
Enterprise registration application
Founding shareholders and members' list
Certified copies of enterprise registration
Investment registration certificate
Power of attorney for representatives who perform the business registration
---
How to Register a Company in Vietnam — Step by Step
1. Investment Registration Certificate
First of all, you will need to approach the Department of Planning and Investment to obtain an Investment Registration Certificate. This will usually take about a month to process and receive.
In rare cases where a business is neither covered by WTO guidelines nor by local laws, you'll need to go to the ministry in charge of that industry, which may make this process more involved in time and effort.
2. Enterprise Registration Certificate
Go to the Department of Planning and Investment, to obtain a Business Registration Certificate (BRC), also known as the Enterprise Registration Certificate (ERC).
3. Tax Registration
Your business licence certificate number also serves as your company's tax number for the Revenue Department of the Vietnamese Ministry of Finance. You will also receive a digital signature which will allow you to access the online portal to pay your taxes.
4. Capital Contribution
Once you have received your ERC, you will have 90 days to make your capital contribution. Be warned; if you do not meet this deadline, you may face fines.
5. Application for applicable Sub Licenses and Permits
Some industries, such as manufacturing, recruitment, or logistics, may require sub licenses or permits. Other sectors, such as distributors, may need to register their products. Again, this may add time (up to a few months) to the registration process.
---
Conclusion — Where to Next for Starting Your Business in Vietnam
Vietnam is fast coming out from the shadows of its larger Southeast Asia siblings as a potential powerhouse economy, and smart entrepreneurs are starting to see it as a lucrative option for investment.
While the Vietnamese Government is quickly making changes to make starting a business far simpler, we advise you to seek professional guidance when looking to start your own business.
With the right help, the incorporation process in Vietnam can be virtually seamless, saving you time, money, and headaches.
We've made an effort to give you as much free information as possible in this short article, but if you have any questions about incorporating your company in Vietnam, ask us below.
FAQs
Why is it a good time to expand or start a business in Vietnam?

The top 5 reasons are many trade agreements, various investor-friendly policies, added investment incentives, upgraded infrastructure and growing population topped with a young workforce and competitive labour costs.
You have two options. You can leverage HR outsourcing services and engage a local distributor to market your product.
Yes. You can purchase a ready-made company, also known as a shelf company in Vietnam.
You can engage a local nominee provider like us.
Let us make starting a business in Vietnam easy.
More on Vietnam Guides