Leading Provider of Corporate Solutions in Malaysia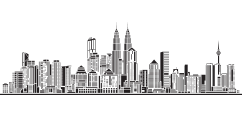 InCorp, with a presence in 8 countries throughout the Asia Pacific region, is the premier choice for corporate services and business advisory solutions to help you successfully establish and expand your business.
Doing Business in Malaysia
As the Strategic Gateway to ASEAN, Malaysia's unparalleled location in the heart of Southeast Asia presents foreign businesses with an exceptional opportunity to access the thriving ASEAN market—a conglomerate of ten diverse and growing economies. This strategic positioning serves as the ideal launchpad for enterprises looking to broaden their regional footprint and harness the immense potential this dynamic region has to offer.
Furthermore, Malaysia extends a welcoming hand to foreign investors through a robust array of enticing incentives, featuring generous tax breaks and grants. These incentives underscore the Malaysian government's unwavering dedication to attracting and nurturing foreign investment, elevating the nation's status as a highly sought-after destination for business expansion.
Complementing these advantages is the presence of an exceptional workforce in Malaysia. The country boasts a wealth of skilled and adaptable professionals, particularly in vital sectors like technology, engineering, and manufacturing—industries that are paramount to the triumph of international businesses. Malaysia's comprehensive package of strategic location, investment incentives, and a skilled labor force underscores its appeal as a premier destination for global enterprises.
Learn about the unique advantages of growing a business with InCorp Malaysia's team of experts from company setup, market entry to global expansion. Discover why Malaysia is the ideal location for successful businesses!
Expand Your Business to Malaysia
Incorporation
Secretarial & Compliance
Tax & Advisory
Accounting & Bookkeeping
Immigration
Setting up your company in Malaysia
Find out how InCorp Malaysia can help you and your company.
Download Brochure