InCorp Group offers the full range of professional services for companies planning to establish a hub or headquarters in Singapore. With our premium services, you will remain fully compliant with Singapore law and enjoy ongoing support from teams across the InCorp Group.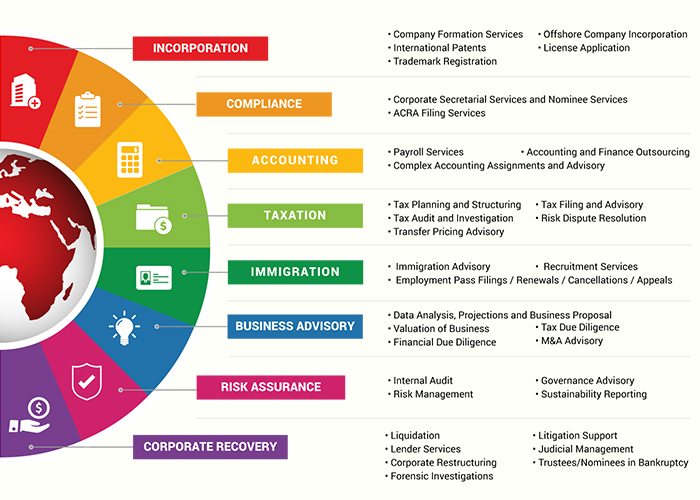 INCORPORATION SERVICES
In the Asian century, there are several jurisdictions in Asia that serve as economic hotspots within the region but each of them is at diverse stages of development and growth. Each has a distinctive regulatory and governance landscape, therefore, the process and the time taken for company incorporation vary among countries in Asia. Businesses expanding in Asia or migrating to Asia need a versatile resource partner and that would undoubtedly be InCorp Group!
We can guide you through the process and ensure that you have the most efficient business entity that is ideally suited to your vision. We will help you evaluate the relative merits of jurisdictions and business structures and help you examine the commercial, tax and legal implications of the incorporating a company in a particular jurisdiction. Our team of experts can help you legally optimize your tax liabilities while gaining access to the regional markets.
Our Service Offerings
Key company formation services that we commonly provide in the top Asian jurisdictions are :
Company Name Reservation
Company/Business Registration
Nominee Share Holder/Director Service
Corporate Bank Account Opening
Statutory Annual Filings
COMPLIANCE SERVICES
Our compliance professionals have comprehensive knowledge of the corporate compliance requirements across jurisdictions in the region. Non-compliance not only attracts fines but may also lead to imprisonment, therefore, having access to accurate and timely information is important. The compliance horizon in the Asian jurisdictions is quite dynamic because most of the economies are in transition. For companies with intra-regional operations, InCorp Group will be a valuable partner, offering centrally managed compliance service for all your regional subsidiaries. We can help you focus more on your core activities and ease the burden on your resources.
Our Service Offerings
Key corporate compliance services that we commonly provide in the top Asian jurisdictions are:
Company Constitution
Annual General Meetings & Extraordinary General Meetings
Maintaining Statutory Books & Registers
Annual Filings with The Company Registrar
Statutory Reporting
ACCOUNTING SERVICES
As companies expand inter and intra-regionally, the accounting transactions get more complex and accounting, primarily an administrative function would evolve into a strategic function. At InCorp Group, we have accounting professionals with vast technical knowledge and regional exposure to provide you with the most customized accounting solutions. Entrusting accounting to a regional expert is fundamental to achieving control and transparency in accounting through standardization of procedures. We have state-of-the-art IT system and experienced professionals to render seamless, coordinated and comprehensive support regionally. We track and update our systems and solutions to stay relevant to the changes in the regulatory framework of the regional jurisdictions. Leveraging on our expertise will empower enterprises to embrace scalable solutions and remain poised to expand regionally.
Our Service Offerings
Key accounting services that we commonly provide in the top Asian jurisdictions are:
Accounting and Bookkeeping
Statutory Reporting
Bank Account Reconciliation
Corporate Tax Compliance
TAXATION SERVICES
Tax regimes across the region are getting increasingly dynamic and complex, even as the countries endeavor to simplify. The complexity increases in countries that have taxes at national and provincial levels. Regional and international companies having cross-border transactions need effective planning to ensure compliance and to legally minimize tax costs. Effective structuring of business entities and revenue models is crucial to optimizing tax liabilities. An enterprise that is new to a particular tax regime inevitably needs an advisory partner to learn about the tax incentives, withholding tax, and permanent establishment and transfer pricing formalities. InCorp Group tax professionals have vast experience servicing clients with international and regional tax exposure. They are well equipped to provide a seamless service that integrates an intimate understanding of clients' businesses and advanced tax analytics.
Our Service Offerings
Key taxation services that we commonly provide in the top Asian jurisdictions are:
Corporate Income Tax Returns
Vat Returns
Indirect Tax
Withholding Tax
Tax Optimizations
Transfer Pricing
Tax Advisory in M&A, Cross Border Investment, Tax Disputes etc.
IMMIGRATION SERVICES
Immigration into Asian countries is increasing with the region's growing economic importance. Finding the accurate details and managing the immigration process is highly time-consuming. Enterprises that have cross-border operations and large mobile workforce need an immigration specialist to assist them in the efficient deployment of talent. Besides enterprises assigning their resources, entrepreneurs and professionals also are in need of reliable agents to assist them with the immigration process. At InCorp Group, our immigration specialists have comprehensive knowledge of the immigration framework in key Asian jurisdictions. Besides providing comprehensive information on the qualifying criteria and documentation needed for each type of visa, our professionals are capable of evaluating the potential outcome for the applicant and advice appropriately. Our network of associates in the region will ensure that the process remains smooth and quick.
Our Service Offerings
Key immigration services that we commonly provide in the top Asian jurisdictions are:
Work Pass
Re-Entry Permit
Dependant's Pass
Appeals On Rejection
Notarization of Documents
Translations
Renewal
Permanent Residence (PR) Application
RECRUITMENT SERVICES
Successful recruitment strategies are developed from a profound understanding of the organization's culture and business objectives. When entering new markets or when recruiting workforce for a new market the organization needs comprehensive knowledge of recruitment, remuneration and retention strategies besides understanding the local work culture. An efficient recruitment partner with a wide network of associates is critical to finding ideal talents for your business. At InCorp Group, we have a regional network of consultants who can provide a comprehensive and seamless recruitment service, right from identifying your potential candidate unto handling the immigration process, if required. Our consultants have comprehensive knowledge to provide valuable advisory on local legislations relating to employment, social security and insurance obligations of the employer. We provide recruitment services for all levels in diverse sectors.
Our Service Offerings
Key recruitment services that we commonly provide in the top Asian jurisdictions are:
Candidate Search
Profiling
Interview Coordination
Employment Contract
Immigration
Advisory Service
CONSULTING SERVICES
Asia is gaining prominence as global economic engine and with the ASEAN Economic Community (AEC) coming into effect enterprises and entrepreneurs around the world are intensifying their pursuit of opportunities in the region. However, the countries in the region are culturally, politically and economically diverse. Doing business in the region requires a strategic consulting partner to provide due diligence in critical business decisions such as M&A, business finance, investment and expansion into new markets. InCorp Group's consultants who are subject matter consultants can help you identify new sources of advantage while avoiding risks and help you develop strategies that directly add value to your bottom line.
Our Service Offerings
Key consulting services that we commonly provide in the top Asian jurisdictions are:
Corporate Development & Finance
Banking Liaison
Treasury Advisory
Sustainability Reporting
Bank Loan Finance Consultancy
License Application
INSURANCE SERVICES
Risks encountered by companies vary depending on the markets they operate in and the nature of business. Regionally poised businesses need a thorough understanding of the potential risks involved in the markets they operate to ensure adequate coverage. Natural disasters, political uncertainties, epidemics, terror threats, technological threats are adding to the risks posed by economic instability and competition. InCorp Group's network of associates not only provides comprehensive coverage but also help you with the detailed risk assessment to identify gaps. Our insurers help you control your expenses on premiums, by providing advisory and implementation services to reduce claims. You will also gain a clear understanding of uninsured risks that your businesses may potentially face and ensure business preparedness in the even of those risks.
Our Service Offerings
Key insurance services that we commonly provide in the top Asian jurisdictions are:
Risk Assessment
Coverage
Risk Management
Corporate Insurance – Property, Pecuniary, Liability and Group
Political Risk
Professional Insurance
Financial Risk
Trade and Credit Risk
BUSINESS BROKERAGE SERVICES
In this digital era, the melding of brick and mortar with e-commerce is essential. Almost every customer journey needs to involve both online and offline activity. This is where our brokerage services come into play. At InCorp Group, our business consultants are skilled at identifying buyers and sellers, performing initial due diligence and proposing deal structure options. Whether you are a business owner looking to cash out or a buyer seeking a business-for-sale, we can help you facilitate and achieve a favourable transaction.
Our Service Offerings
Key business brokerage services that we commonly provide in the top Asian jurisdictions are:
Looking to cash out of your business?
Looking to purchase a business-for-sale?
TRADE AND WORKING CAPITAL SOLUTION
Efficient working capital management can be brought about by freeing up significant liquidity in the trade cycle, no matter buyer or supplier. For the latter, longer payment terms can pose a huge stress on working capital and cashflow management. In addition, high borrowing rates, limited credit lines and lengthy documentations intensify suppliers' challenges. On the other hand, buyers who are sitting on excess cash often earn negligible returns on this cash. At InCorp Group, our partnership with JEDTrade has given rise to a smart, flexible and trusted Trade Marketplace Solution, allowing buyers and suppliers to optimise win-win outcomes and enhance trade relationships.
INTERNATIONAL EXPANSION
Overseas markets can offer exciting prospects such as new revenue sources, access to new talent pools, improved distribution efficiency, risk diversification and maintenance of competitive parity. However, internationalisation can be a challenging process. At InCorp Group, our specialists are experts at country-specific compliance and regulatory requirements spanning company incorporation, accounting and taxation, payroll and corporate secretarial services. We are primed to take your company to new markets, and new heights.
Our Service Offerings
Key countries and jurisdictions we can help you expand into:
China
Hong Kong
Malaysia
Philippines
Vietnam
Indonesia
Offshore jurisdictions: British Virgin Islands / Marshall Islands / Seychelles
BUSINESS SUPPORT SERVICES
Running a company is hard work and we want to make it Simple and easy. As a one-stop Singapore corporate service provider, Incorp group provides business services for foreign and local companies. We have consistently helped small and medium-sized enterprises, start-ups and companies like you remain in compliance with authorities as well as avoid penalties or losses.
Our Service Offerings
Let the experts in businesses and start-ups guide you
Our expertise in company formation, statutory compliance, accounting, tax, immigration, recruitment, insurance and consulting has helped thousands of companies get a headstart. Get yours today.