Payroll Management Services
Under the Employment Act, you must pay your employees' salaries at least once a month and within seven days of the end of the salary period. For Singapore citizens and permanent residents, you also need to stay on top of your CPF contributions. The work right campaign launched by the government now gives employees an opportunity to flag up any late payments of CPF funds, so it's absolutely imperative you have a streamlined system in place.
How InCorp Payroll Management Works
Upon engagement of our Payroll Management Services, an Accounts Manager is assigned to you to work on your payroll requirements. He will review and organize the information you submit to us, and subsequently create and maintain a payroll ledger based on the data. In addition, he will make salary payouts and submit all required payroll taxes according to your instructions.
Our Payroll Management Services include:
Salary computing on a monthly, bi-weekly or weekly basis.
Salary payout to employees by cheque or via bank transfer (i.e. GIRO)
Computing gross to net salary and CPF
Central Provident Fund (CPF) registration and monthly payment in a timely manner
Submission of Auto-Inclusion Scheme (AIS) with the Inland Revenue Authority of Singapore (IRAS)
Submission of GML, IR21, CPF refund, government statistical forms, NS MUP etc.
Issuance of IR8A Form for personal tax – this includes annual filing returns.
Preparation of payroll journals and reports for Accounting & Management purposes
Issuance of payslips (electronic/hard copy)
Access to Online Claim Management Portal
Access to Leave Management Portal
Access to Online Payslip Portal
In.Corp Payroll Process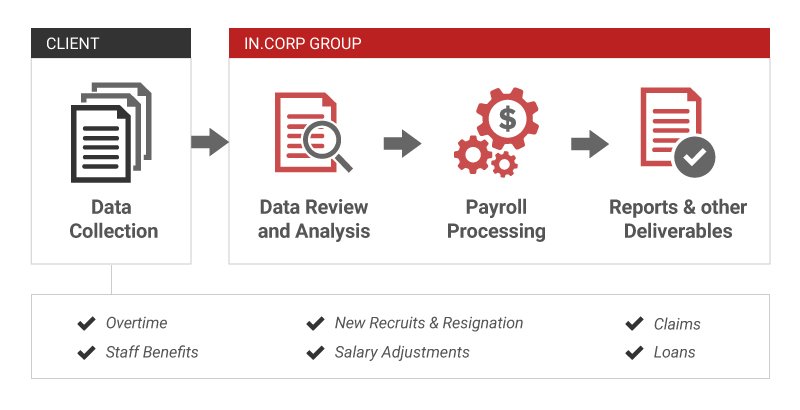 In.Corp Payroll Cycle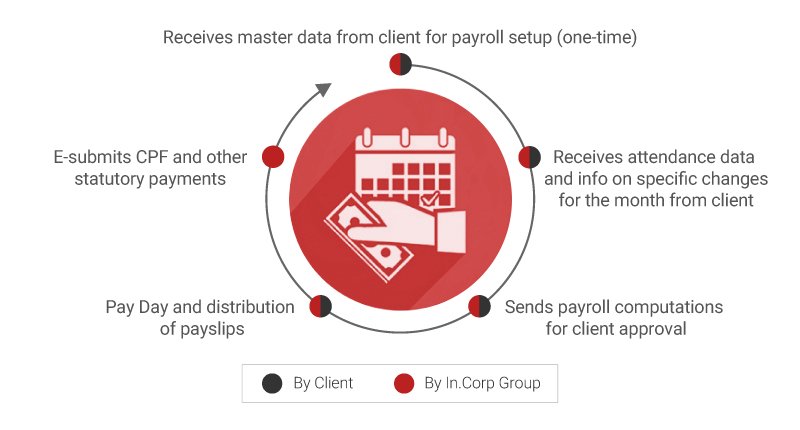 Payroll Management Services – Proprietary Software Hosted on the Cloud
The latest lineup to be added into our Payroll Management Services is a robust in-house Payroll Management Software that is hosted on the cloud. Our software reduces the administrative load of managing complex payroll tasks with features that let you get a hold on the payroll.
Our Payroll Management Software Offers:
Customisation: You can incorporate company branding into the software
Scalability: The software accommodates any organisation structure and is fully scalable to fit employee workforce size
Employee Access: Staff can access their leave management, payslips, timesheets and claims
Compliance Management: All statutory deductions-related calculations and regulations required by Singapore Ministry of Manpower (MOM) are built into the software, making payroll processing requirements, both simple and complex, straightforward
Attendance and Leave Management: Timesheet and leave management modules can integrate with existing biometric procedures
Access Controls: Leaves, timesheets and claims can be approved by Managers based on an approval matrix, allowing for information control and access across employee groups
Approve leave requests conveniently from a central dashboard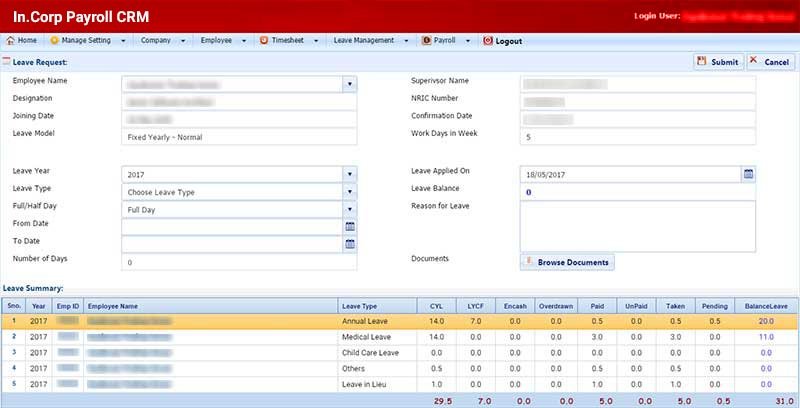 View all-inclusive leave request details and retrieve summaries of leave transactions by employees

Review timesheets that track working hours and attendance accurately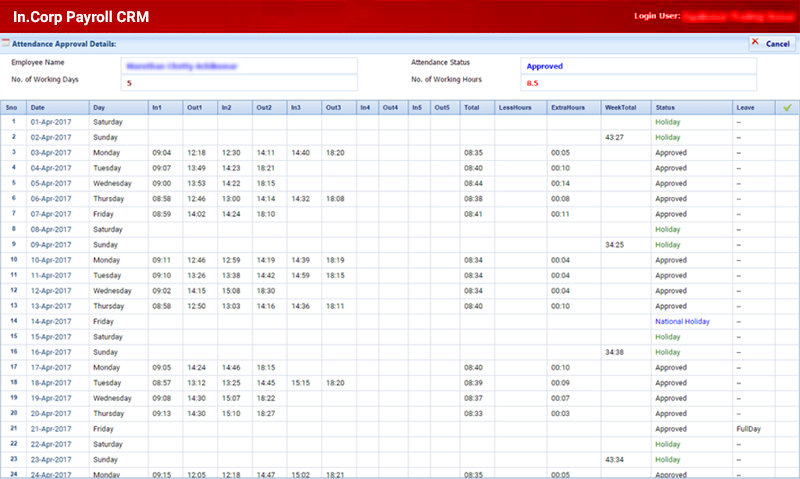 What are the Features of Our Payroll Management Software
KEY FEATURES
MODULES

24/7 access that is not restricted by location
Intuitive, simple interface for Management & employees
Customised reports and menus for easy access
Secured Data Management
Online payslip retrieval for employees
Online Portal for Claims & Leave Management
Online employee helpdesk

Attendance
Claims
Leave
Payslip Locker
Expense Claim Management Services
Rectifying errors made in expense claims can be expensive for companies – companies often encounter missing or faded receipts, or find miscalculations in claim reconciliation figures due to the use of manual mediums such as spreadsheets and forms to process travel and business expense claims. These manual mediums can be inefficient.
With our Software, you can eliminate mistakes and track/manage employee expense claims easily. Get a hold on your expense claim process and save your company money and time.
Our Expense Claim Management Software Offers:
Automatic calculation of net amount and exchange rates
Management of receipts digitally – receipts can be digitally captured easily and automatically parsed into expense report entries
Multi-level claim approval chains that can take place anywhere; web or mobile
Claim form formats that can be customised to suit your workflow requirements
Unlimited access to web and mobile-based expense claim management interface
Integration with your existing Payroll Software to upload expense tabulation reports seamlessly and streamline reimbursement of claims alongside salaries
---
Contact our Team:
Reduce costs and save time by outsourcing your Payroll & Expense Claim Management
Reclaim full control over your Payroll and Expense Claim process with our transformative Management Software. Be attended to by a dedicated Payroll & Expense Claim specialist when you use our services or software.