2 minutes read
Maharashtra's Leading Internet Service provider hires InCorp
About the Company
A Private Limited company incorporated in 1994 has established itself as a leader in providing Internet Network services in Navi Mumbai, Mumbai, and throughout Maharashtra. The client expands its advanced technological services to satisfy consumer demand in a timely manner.
Since the company is highly professional and places a strong emphasis on service quality and efficiency, it has been able to appeal to its subscribers in various locations in a very short period of time.
The client believes in Faith, Clarity, and Comfort. The customers have a new age Software to manage their own account (Online payment / report & monitor complaints / E-Receipts / Check Usage) via web & mobile application, in addition to the 100+ offices to oversee.
---
Industry Focus High Speed Internet Connection Telephone Connections Can be used for any future technology (IPTV/Google TV/Video-on-Demand etc.) Build, manage & maintain the network. Network is compatible with signals transmission for CCTV / Lift Alarm / Fire Alarm / BMS / IBS / e-Meter & Home Automation to Central Control Room.
Timeline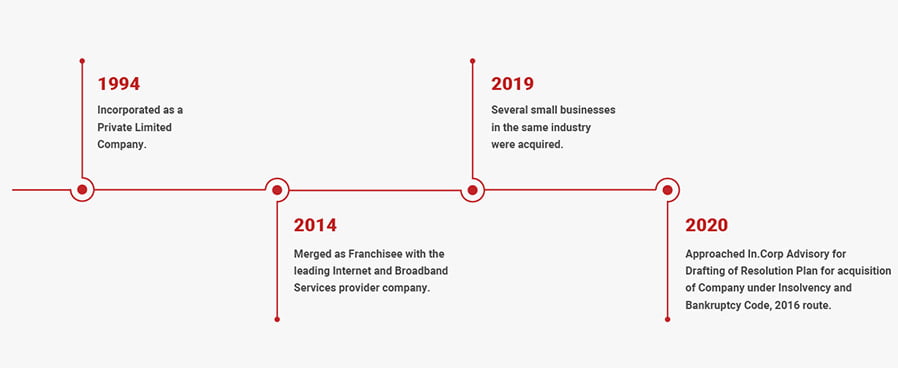 What services did the client engage InCorp Advisory for?
Drafting a Resolution Plan in accordance with IBC norms
Drafting an application for approval of Resolution Plan before Hon'ble NCLT bench
Attending hearings before Hon'ble NCLT for approval of Resolution plan
Be a part of Handover process between Resolution Professional and Resolution Applicant
---
What was the client's long-term vision?

To buy out the running business of the Company admitted under IBC and add value to its existing portfolio of corporate clients

To get the Credentials of the Company and accordingly enhance leadership position in the market and expand geographically.
How did InCorp turn the client's Vision to Reality
| Client's Main Challenges | With InCorp |
| --- | --- |
| Understanding the compliance rules under the Insolvency and Bankruptcy Code 2016 was difficult. | Professionally drafted the resolution plan to meet the law's criteria for content and compliance. |
| Buying the company via the NCLT route is a time-consuming procedure. | Ease out the procedure due to vast experience working with NCLT |
| Fears over post-acquisition litigation | Assisted in smooth acquisition without any litigation |