Hiring in Singapore
After registering your company in Singapore, you need to source high-calibre employees who are qualified to work for you in Singapore. Strict guidelines must be followed to ensure you adhere to relevant legal protocols and the Singapore Employment Act for getting work passes in Singapore.
The Employment Act contains the terms and conditions for employment in Singapore as well as an outline of the duties you need to follow as an employer. It applies to all employees across all industries, except for:
Managers and executives who have the power to hire, fire, promote or discipline other employees, and those with specialist skills such as lawyers, doctors, and accountants
Domestic workers
Selected government staff
Seamen
Employees earning less than S$2,600 qualify for additional protection concerning rest days, annual leave, sick leave, overtime, retirement benefits, and more under Part IV of the Employment Act.
As an employer, you need to consider where your employees fall under the Employment Act. You may also need to consider additional labour laws that affect your employees, as well as any restrictions on the number of foreign employees and costs incurred for work pass applications.
Read more: Why is Singapore a Prime Spot for Top-Tier Foreign Talent? » 
---
Employment Pass and Personalised Employment Pass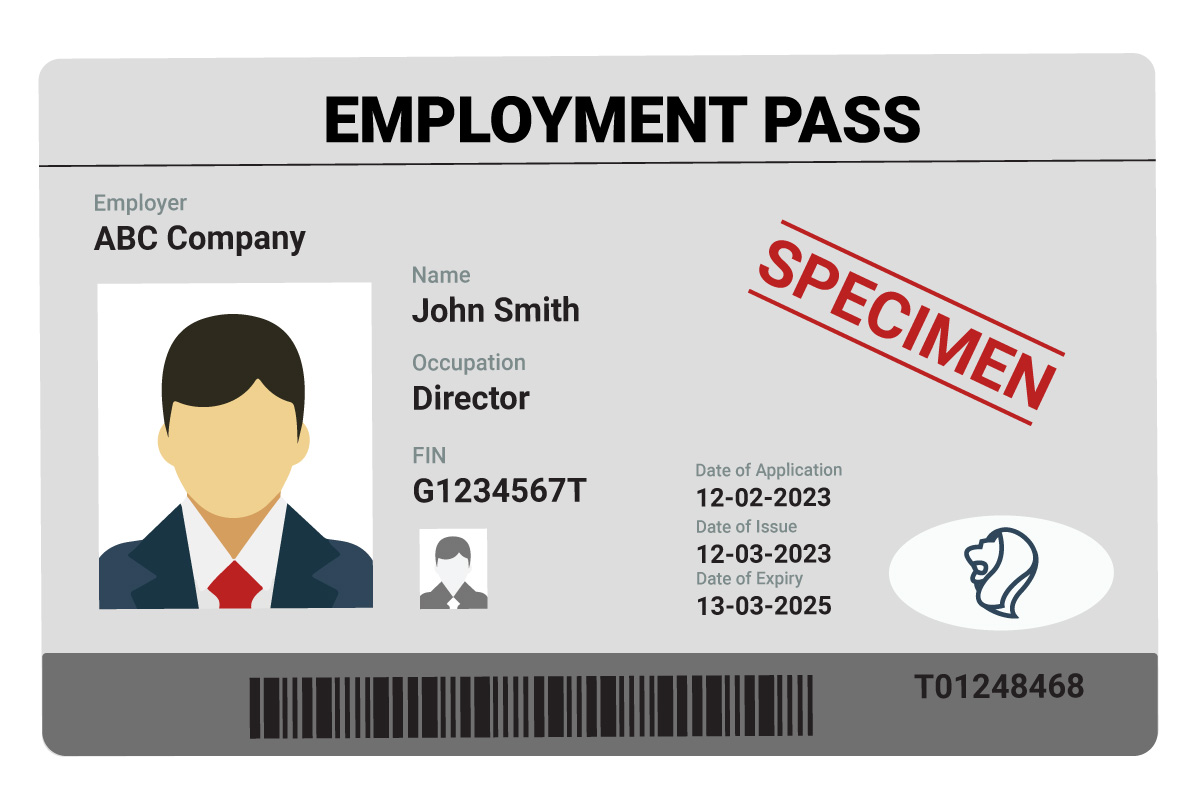 The Singapore Employment Pass* is designed for managers, executives, specialists, and skilled professionals. Entrepreneurs who incorporate  companies in Singapore may also apply for an EP if they wish to relocate for the management of operations. 
There is no limit on the number of EPs one business can apply for, but individual candidates must earn at least S$5,500 in financial services and at least S$5,000 for others (increases progressively with age from age 23, up to $10,500 at age 45 and above).
Application for an Employment Pass is open to all nationalities or citizenships.
*Note that the newly implemented COMPASS Framework will commence on 1st September 2023. New EP applicants are to pass this criteria to obtain an EP. This also applies to renewals from 1st September 2024. Learn more here. 
To be eligible for the Personalised Employment Pass (PEP), you need to meet one of the following criteria:
An existing Employment Pass (EP) holder that earns a monthly fixed salary of S$12,000. An Employment Pass holder under the sponsorship scheme is not eligible;
For foreign professionals with overseas employment, you must earn a monthly fixed income of S$18,000 per month;
*Note: From 1 September 2023, the fixed monthly salary criteria for both existing EP holders and overseas foreign professionals will be raised to S$22,500.
If your PEP is approved after 1 September 2023, you must earn a fixed salary of at least S$270,000 per calendar year.
Read more: Infographic: An Overview of the ONE, EP, and PEP Work Passes » 
---
EntrePass
The EntrePass qualifies entrepreneurs to incorporate new private limited companies in Singapore. It specifically aims at entrepreneurs who wish to build innovative technology, R&D, and biotech businesses in Singapore. To qualify, entrepreneurs must meet at least one of the following criteria:
Have funding from a government-accredited VC or business angel
Hold an intellectual property
Hold significant business experience/network and promising entrepreneurial track record
Has exceptional technical/domain expertise in an area related to proposed business
Hold good track record of investing in businesses and want to grow new or existing businesses in Singapore
Has research collaboration with A*STAR or a university
Is an incubatee at a government-supported incubator
---
ONE Pass
Singapore's ONE Pass opened for applications from 1 Jan 2023, and is the latest addition to its range of work passes. This customised pass is designed to attract top talent across various domains, including:
Academia
Research 
Sports
Arts & culture 
Business 
Successful candidates granted the ONE Pass are given the flexibility to work for multiple companies simultaneously in Singapore, without the need to reapply if they switch jobs. Moreover, their spouses can also engage in work within Singapore by obtaining a Letter of Consent (LOC).
Individuals eligible for the ONE Pass can pursue two avenues for application:
Meeting specific salary prerequisites, which entails either of the following conditions for existing work pass holders and overseas applicants:
Earning a consistent monthly salary of at least S$30,000 in the past year.
Demonstrating an intention to earn an equivalent salary in their new Singapore-based employment.
Existing work pass holders must additionally demonstrate a minimum of 1 year of work experience in Singapore or future employment with a reputable Singaporean firm. 
Similarly, overseas applicants must show at least 1 year of employment with an established company or future engagement with such an enterprise in Singapore.
Achieving exceptional accomplishments in the previously mentioned sectors.
Read more: ONE New Work Pass: Taking in Top Talent in Singapore >>
---
Tech.Pass
Administered by the Singapore Economic Development Board (EDB), the Tech.Pass offers a two-year visa for leading tech experts, entrepreneurs, and innovators.
Holders can undertake multiple roles, such as:
Establishing and running tech companies
Working for Singapore-based firms
Teaching or mentoring in institutes of higher learning 
Investing or directing in a company in Singapore
No new pass application is required upon role changes.
In order to obtain the Tech.Pass, applicants need to fulfill any two of the following criteria:
Earned a  fixed monthly salary of at least S$22,500 (effective 1st September 2023)  in the past year. This aligns with the top 10% of EP holders. 
Possess a minimum cumulative experience of five years in a prominent role within a tech company valued at a minimum of US$500 million in market capitalisation or having secured funding of at least US$30 million.
Accumulate a minimum experience of five years in a leadership role related to the development of a tech product that boasts at least 100,000 active users monthly or generates annual revenue of no less than US$100 million.
---
S Pass & Work Permit
S Pass New Applications
The S Pass is designed for mid-level foreign workers with a minimum salary of S$3,650 for the financial sector and S$3,150 for other sectors (from 1 September 2023) for new applications. Applicants are judged on a point-based system that considers salary, education level, relevant skills, job type, and work experience. The number of S Pass holders your company can employ is determined by your industry's Dependency Ratio Ceiling (DRC).
S Pass Renewals
The minimum salary for S Pass renewals is S$3,500 for the financial sector and S$3,000 for other sectors (from 1 September 2023). 
S Pass Levy (from 1 September 2023):
Tier
Quota (%)
Levy Rate (Monthly)
Tier 1 
≤ 10% of total workforce
S$550
Tier 2 
> 10% to 15% of total workforce

S$650

(no change)
For basic-skilled workers earning less than S$3,000, employers may apply for a Work Permit (WP)* with a maximum duration of two years, subject to the employee's passport validity and a Banker's Guarantee. Employees may only be selected from approved source countries.
*Note that the number of WP or S Pass holders you employ may be limited by an industry quota. The quota can be determined by the local qualifying salary (LQS). Also, this will be accompanied by a monthly foreign worker levy (FWL) employers will need to pay for each WP or S Pass holder. 
---
Dependant's Pass & Letter of Consent
Employers may apply for a Dependant's Pass (DP) to permit their employee's spouses and children to live in Singapore. The DP is connected to the validity of the employee's work pass, and the employee must be earning at least S$6,000 a month.
Spouses of DP holders can apply for a Letter of Consent (LOC) to entitle them to work in Singapore. They must have secured a job offer from a Singapore employer first.
Let Us Manage Your Work Pass Application with Ease
More on Singapore Guides