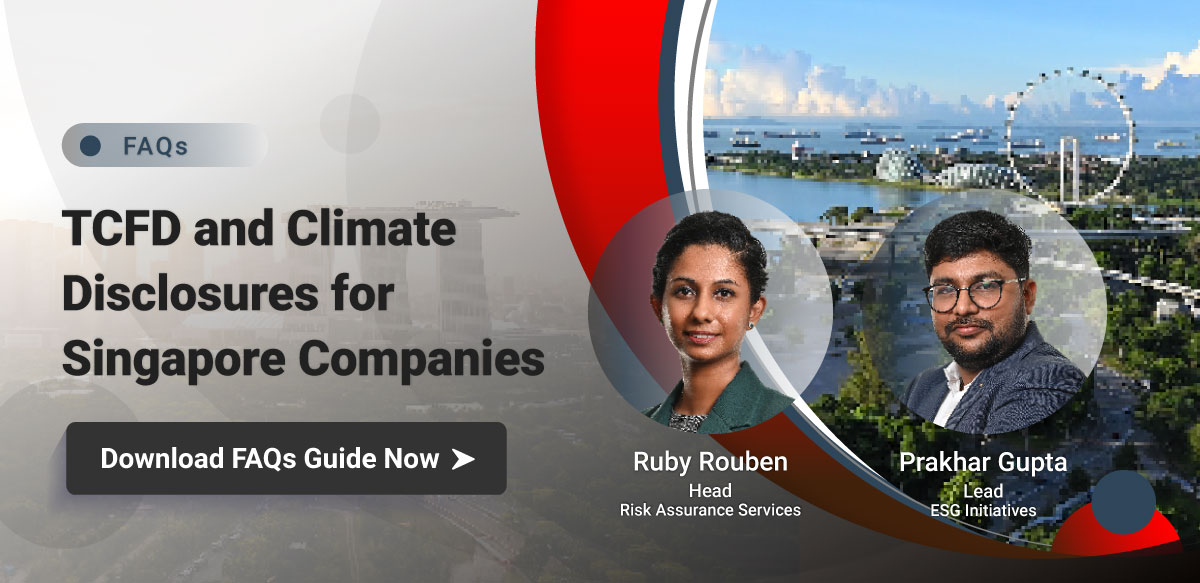 Download Essential TCFD and Climate Disclosures FAQs Guide
Join us for an informative webinar on climate disclosure reporting for Singapore companies. This webinar will provide valuable insights into the SGX RegCo and ACRA recommendations, ensuring that SGX-listed and large private companies are well-informed about the Climate and ESG-related reporting obligations.
Key Takeaways:
Gain insights into your reporting obligations for SGX Listed Companies and future requirements for Private Companies in Singapore
Understand the latest ISSB guidelines: IFRS S1 on General Requirements for Disclosure of Sustainability-related Financial Information and IFRS S2 on Climate-related Disclosures
Discover the importance of third-party verification on specific information such as Scope 1 and Scope 2 Greenhouse Gas emissions
Explore InCorp's Task Force on Climate-Related Financial Disclosures (TCFD) Consultancy Services
Address SGX's requirement for Internal Review on Sustainability Reporting for SGX Listed Companies (effective 1st Jan 2022)
Who Should Attend:
Executives/Officers of SGX-listed and Private Companies:
CEOs and CFOs
Executive Directors
Independent Directors
Compliance and Sustainability Officers
Financial Controllers
---
---
About the Speakers
Ruby Rouben

Ruby is the Head of Risk Assurance Services at InCorp Global.

With more than 13 years of experience in the audit profession, Ruby has led internal audit, governance advisory and risk management engagements with various Ministries, Organs of State, Statutory Boards, Institutions of Higher Learning, Multinationals, Public Listed Companies, Financial Institutions, Charities and Institutions of a Public Character.

Prakhar Gupta

Prakhar is a senior sustainability leader heading the ESG Advisory Practice at InCorp. With an extensive background in governance, compliance and sustainability development, he guides clients throughout Asia in assimilating and reporting on their Environmental, Social, and Governance (ESG) practices, in accordance with regional and global standards.

Prakhar proudly holds a position on the Sustainability Reporting Standards Board (SRSB) at the Institute of Chartered Accountants of India (ICAI), shaping sustainability reporting standards for the industry. Over his career, he has successfully assisted over 50 companies and investment funds in adopting ESG principles and publishing comprehensive Sustainability reports in alignment with worldwide and regional guidelines.
More on Events