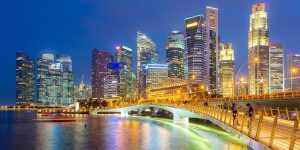 Singapore is a small but prosperous island nation that attracts people from all over the world.
Known for its cleanliness, safety, and world-class infrastructure, it is one of the best places to live and work globally.
What are the benefits of becoming a permanent resident (PR) in Singapore? Some advantages that quickly come to mind include social stability and being able to gain entry to world-famous public services.
In this blog, we explore the top 6 benefits of holding a Singapore permanent resident status.
Work and Career Opportunities
One of the main reasons why people apply for permanent residency in Singapore is to enhance their career prospects.
It is home to many global corporations and businesses, and being a permanent resident can help individuals to secure better jobs with higher salaries.
Singapore permanent residents are also allowed to start their own businesses, which can be a lucrative option for entrepreneurs. Moreover, being a permanent resident can provide access to more job and networking opportunities in the long run.
Related Read: What is the X Factor that Makes Singapore a Global Talent Hub »
---
Social Stability
Singapore is a peaceful and stable society that values law and order. Being a permanent resident in Singapore means that you can benefit from this stability in many ways.
You can enjoy a safe and secure environment, access to quality healthcare and education, and a well-developed infrastructure. Singapore is also known for its low crime rate and strict laws, which makes it a desirable place to live for many foreigners.
---
Access to Attractive Public Services
As a permanent resident in Singapore, you can access a range of public services that are not available to non-residents. These include healthcare, education, and housing.
Singapore's healthcare system is highly regarded and provides affordable medical care for all residents. Education is also a top priority in Singapore, and permanent residents can benefit from access to internationally-renowned quality education at all levels.
Housing in Singapore is also highly sought after, and permanent residents can purchase or rent public housing.
All Singapore permanent residents will also be able to join the Central Provident Fund (CPF), with employers and employees contributing a portion of their monthly salaries to this national pension fund.
---
Convenient Travel Benefits
Singapore is a well-connected country with excellent transport infrastructure. As a permanent resident, you can benefit from these travel connections in many ways.
You can travel easily within the country, and you can also enjoy visa-free or visa-on-arrival travel to many countries around the world.
Singapore also has a well-developed and internationally renowned airport, Changi Airport, that offers direct flights to many destinations, making it easy to travel anywhere in the world.
---
Improved Chances of Loan Approval
When Singapore PRs apply for housing loans to buy a property, they can do so with greater priority, which is ideal for those seeking to establish a family here.
They can buy resale HDB flats instead of being restricted to private properties limited to foreigners. In terms of investment loans, permanent residents will also find it easier to secure one as compared to  Employment Pass (EP) and S Pass holders.
---
Charting A Path to Citizenship
Finally, having a PR status can be a stepping stone to becoming a Singapore citizen. Permanent residents can apply for citizenship after living in Singapore for a certain period of time and meeting certain criteria.
Singapore citizens enjoy many benefits, including the right to vote, eligibility for government jobs, and the ability to travel on a Singapore passport.
Related Infographic: An Overview of the ONE, EP, and PEP Work Passes »
---
Secure Your Singapore PR Benefits
In conclusion, obtaining Singapore permanent residence offers numerous advantagess, including access to better career opportunities, social stability, the potential for Singapore citizenship, and more.
Singapore is a welcoming and diverse country that offers a high quality of life for its residents, and becoming a permanent resident is a great way to take advantage of all that Singapore has to offer.
InCorp's immigration team can assist you with a seamless Permanent Residency (PR) application process and handle all regulatory matters professionally.
Related Services: Singapore Immigration »
Contact our team
FAQs
You must meet the requirements specified before you can apply. You can also engage a professional immigration expert in Singapore such as InCorp to help you throughout the process.
Although obtaining a Singapore PR status is not easy, you can enlist InCorp's help to ensure a more favourable and fuss-free outcome with our experience.
Yes, it is. Permanent residents will find it easier to establish a family in Singapore, and will enjoy a variety of perks that foreigners do not have.
Apply to be a Singapore PR with InCorp today!
More on Business Blogs