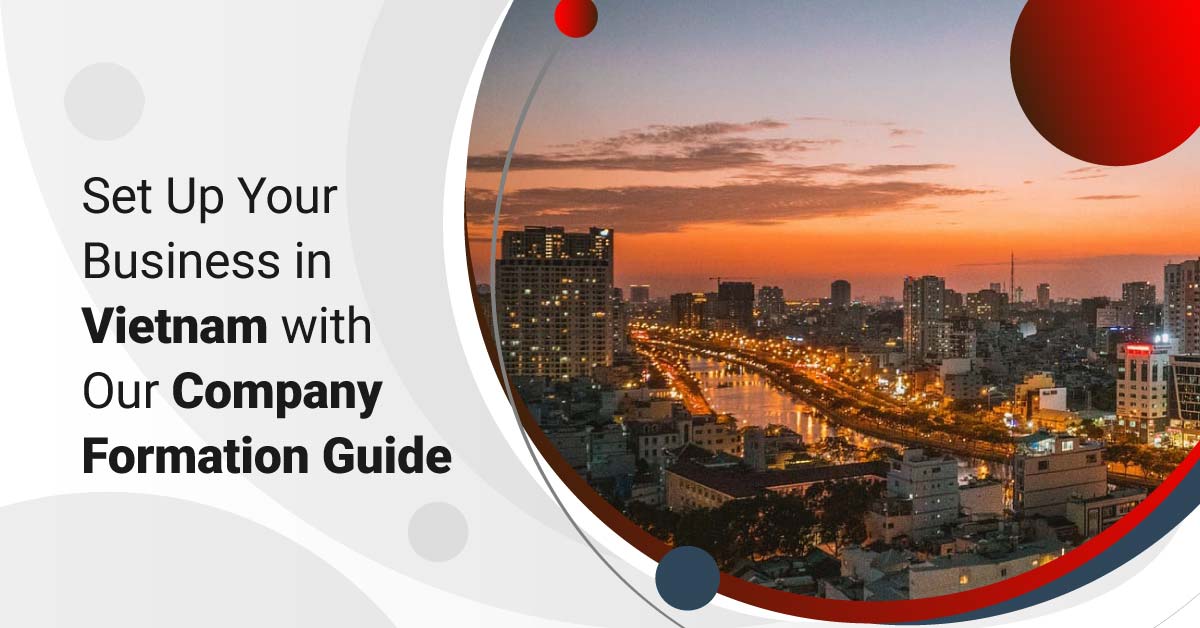 If you are looking to start doing business in the lucrative markets of Southeast Asia, look no further than Vietnam. InCorp has helped thousands of companies set up in Vietnam, so we know all the ins and outs of the market entry process.
Based on our expertise and the latest regulations, this article will help you understand the company formation process in Vietnam.
As per the latest World Bank predictions, Vietnam's economy is expected to reach new economic milestones in Southeast Asia by 2030. In 2022, the nation's Gross Domestic Product (GDP) already exceeded most predictions with 8.02% growth, over a threefold recovery over 2021. 
Moreover, as per the World Economic League Table 2022, the Vietnamese economy is set to overtake Singapore, Switzerland, Belgium, Sweden, Poland, and Australia by 2036. 
Table of contents
Benefits of Setting Up your Business in Vietnam
Last year, Vietnam was named the seventh most attractive country for starting a business in surveys by U.S.News. Here are some key reasons that make Vietnam a business hotspot:
Young and Educated Working Population: Over 100 million people live in Vietnam, over 50% of which are under the age of 35 years. As a result, the nation's labor force participation rate (68%) is the highest in Asia.
A Thriving Economy: The Vietnamese economy has sustained a high economic growth rate despite the pandemic. In fact, it was among the few countries that recorded meaningful growth at the height of COVID outspread.
Strategic Location: Vietnam's extensive coastline gives it access to vital shipping routes for imports and exports. The country is also a great investment location for international manufacturers due to its proximity to Asia-Pacific economic hubs (China, Singapore, Thailand, Indonesia, etc.)
Supportive Government Policies: The Vietnamese government offers attractive fiscal and non-fiscal benefits to promote the inflow of international investments in the nation. 
For instance, foreign corporations can avail tax exemptions by investing in crucial sectors like high-tech or healthcare areas.
Trade Arrangements: Vietnam has become a signatory of 15 trade agreements worldwide. To allow cheaper intra-regional tariffs, the nation actively participates in the ASEAN and ASEAN Free Trade Area.
Additionally, the US-Vietnam Bilateral Trade Agreement and EU-Vietnam Free Trade Agreement will both facilitate robust imports and exports. 
Developing Infrastructure: To attract foreign investment and bolster the logistics supply chain, the Vietnamese government has spent significant resources on enhancing the nation's infrastructure in recent years, especially in key financial and manufacturing regions.
Best Cities for Doing Business in Vietnam
Ho Chi Minh City 
Ho Chi Minh City (HCMC), a rapidly expanding, youthful, and energetic city in southern Vietnam, perfectly encapsulates the nation's dynamic commercial potential. The city has a market of more than 600 million people.
At roughly 1.3 quadrillion VND (about USD 55 million), Ho Chi Minh City had the highest Gross Regional Domestic Product (GRDP) among the country's provinces and cities in 2021.
The most well-known sectors in HCMC include:
Food Processing 
Mechanical Electronics 
Plastics
Rubber
Hanoi 
Hanoi is conveniently situated on the banks of the Red River and lies adjacent to China. Most ASEAN capital cities are easily accessible via 3-hour flights, making cooperation and trade possible.
The city's key strengths are its excellent connectivity and infrastructure. 
Moreover, Hanoi's economy has shown remarkable performance, with a GDP increase of 7.79% in the first half of 2022 compared to 2021.
Hanoi intends to use "Industrial Revolution 4.0" to boost its economy and change its growth model while fostering international cooperation.
Related Read: Manufacturing in Vietnam: Opportunities and Benefits »
Other Notable Cities
Da Nang is among the top 5 business hubs in Vietnam and has excellent manufacturing, information technology, and retail infrastructure. 
Bac Ninh's vital sectors include electronics and industrial automation, while key advantages include convenient access to improved infrastructure, government incentives, and supply chain convenience. This is the base of Vietnam's largest investor, Samsung Electronics.
With 30 industrial zones, the province is second only to Ho Chi Minh City in attracting FDI.
Hai Phong, a major port city in northern Vietnam, is home to coordinated and modern expansion in transportation, urban infrastructure, and business and investment climate.
Phu Quoc is the largest island in Vietnam and an excellent business place, driven by the fastest-growing tourist sector in the country.
---
Requirements for Starting a Business in Vietnam
Capital Requirements for Starting a Business in Vietnam
To start a business in Vietnam, most industries have no minimum capital requirements. 
However, the government states that a company must have adequate capital until the business becomes self-sufficient and can meet its expenses. Based on our experience with past clients, our recommendation is: USD 25,000 to 40,000.
Business lines such as education, finance, real estate, insurance, and banking usually requires capital funds assessment by the Department of Planning and Investment before launching.
Overseas Ownership Conditions in Vietnam
Vietnam permits 100% foreign ownership of a company in most industries. The three major exceptions are advertising, tourism, and oil, gas and mining, which require a Vietnamese joint venture company.
Foreign ownership laws typically adhere to World Trade Organization (WTO) standards. However, there are also situations where some sectors are not covered by local or WTO legislation. In these circumstances, you will need the approval of the relevant official ministry.
Registering Your Business Address in Vietnam
All businesses (especially involved in physical goods) must have a registered business address in Vietnam. However, most service-based businesses can have a virtual address.
---
Company Formation in Vietnam 
Choosing a Legal Entity
For a legal company setup, you must select a suitable business structure or entity. 
Based on a business' strategy, the size of operational activities, and other business-related variables, foreign investors have four alternatives for establishing a company in Vietnam.
Limited Liability Company (LLC)
This type of legal entity is best suited for foreign investors having small- to medium-sized firms and can be incorporated with 1-50 members.
Joint-Stock Company (JSC)
JSCs are preferable for incorporating large-scale companies and have no limit on the number of shareholders (though the minimum is three). 
Representative Office (RO)
Instead of creating a new company, you may wish to conduct market research first and then build a presence in Vietnam. Having a RO can be helpful in this scenario.
Branch Office

A Branch Office conducts activities under and alongside its parent company abroad, therefore it can conduct economic activities and generate profit.
Steps for Company Formation
Creating each legal entity can take one to three months. The three essential components of such a process are described below.
| | | |
| --- | --- | --- |
| Legal  | Accounting & Tax  | HR & Payroll  |
| Includes bank account, company seal, and company registration documents. | Includes FDI audits, tax registration, and tax submission. | Includes insurance, taxes, and consultation. |
International investors should carefully follow each of the stages listed below to fully comply with regulations.
Provide documentation for your business and personnel involved in it.
Register the business address and appoint a legal representative.
Get an Investment Registration Certificate (IRC) from the Department of Planning and Investment (DPI).
Get an Enterprise Registration Certificate (ERC), also known as a Business Registration Certificate (BRC).
Official company seal (required to authorize any issued document).
Create a bank account with the money you have to invest.
Register for taxes and get an electronic signature (for e-invoicing)
Obtain any further business licenses required by your industry.
Documents Needed to Establish a Foreign-owned Business in Vietnam
The required paperwork is listed below:
Application for business registration, which should contain:

The company's name
Its registered office address
Its business line
The owners' charter capital
The sorts of shares they own
How many people work there
Information about their partners and representatives who are pertinent
Their tax registration credentials

List of the board of directors. 
The company's charter or articles of incorporation.
A copy of each member's passport, ID card, or another government-issued personal identification document.
A copy of the IRC.
Estimated Time to Set Up
How Quickly Can a Business Be Established in Vietnam?
Starting a Vietnam company can take up to 60 days if you begin from scratch. However, purchasing a shelf company offers you an entity in 7 days, making it a speedier choice.
Establishing a New Foreign-owned Company
The procedure for company registration in Vietnam will take 40-60 days. The preparation and accessibility of the necessary documents will affect how long the process takes. The investor will own all these businesses in their entirety (s).
Acquiring an Established Business
In addition to launching a business from scratch, you may buy an existing firm off the shelf and be up and running quickly. Once acquired, the entity can also be transformed into a 100% foreign-owned firm.
FAQs About Setting Up a Company in Vietnam
By setting up a business in Vietnam, you gain access to the attractive location, infrastructure, workforce, government incentives, and business landscape.
There are many options to do business in Vietnam registering a company. You can buy an existing business, hire employees from abroad, contract manufacturers, or find distributors and import.
You can purchase a ready-made company, also known as a shelf company in Vietnam. Ownership transfer only takes a few working days.
Local members aren't necessary as 100% foreign-owned companies are common in Vietnam (single-member LLCs included). However, having a local member lowers taxes and reduces the processing time for your company.
Get Started on Your Business Journey in Vietnam Today
More on Business Blogs