Singapore, 19th September 2023 – Eric Chin, InCorp's Group Chief Business Development Officer, was recently featured in an exclusive interview with Lianhe Zaobao, discussing our commitment to client due diligence. The interview by Singapore's leading mainstream Chinese newspaper was conducted in light of the recent SGD1.8 billion money laundering scheme in Singapore, whereby the arrested launderers used multiple Singapore companies to launder illicit funds into Singapore. The interview highlighted InCorp's dedication to maintaining ethical standards and its robust "three-layer defence" approach to mitigating crimes like money laundering via setting up shell companies.
In the wake of the money laundering case, InCorp's interview is a testament to its longstanding emphasis on client due diligence. Here's how our "three-layer defence" strategy has been meticulously implemented over the years:
Sales Team: InCorp's sales team plays a crucial role in the initial phase of client engagement. They are trained to ask clients the right questions regarding their business nature, UBOs, and directors, for example, to ascertain a risk level or identify any forms of red flags, ensuring clients are vetted thoroughly before onboarding.
Compliance Team: The compliance team at InCorp acts as the second layer of defence. They are responsible for conducting thorough background checks, verifying client information, and ensuring new and existing clients comply with regulatory requirements and satisfy InCorp's internal compliance policies. Upon assessing the risk ratings of each client profile, they independently approve or reject the onboarding of the client. They also take care of the periodic remediation of existing clients and communicate with them to retrieve updated information on a regular basis.
Technology: InCorp leverages in-house technology to augment its customer due diligence efforts. The compliance team uses the platform to continuously monitor and assess transactions for unusual or suspicious patterns. This proactive approach helps identify potential issues before they escalate.
Once a negative report of any client is auto-discovered by our platform, the compliance team will investigate and decide if InCorp should either continue to service the client or terminate the relationship.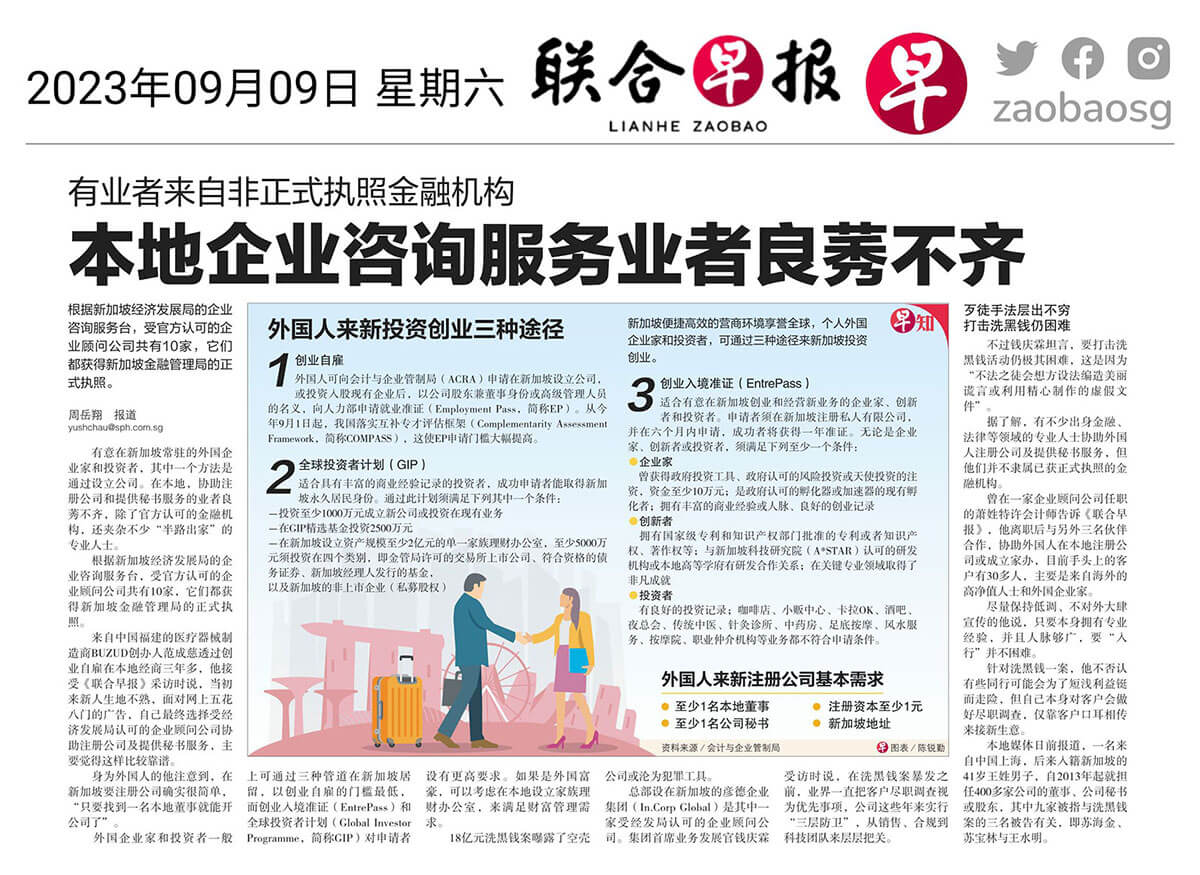 We strongly encourage foreigners to engage an officially licensed and recognised corporate service provider to set up a company in Singapore.
At InCorp, we remain vigilant in our pursuit of excellence in client due diligence and continue to adapt to evolving industry requirements and regulations in a rapidly changing landscape. Get in touch with our team to learn more.
Turn your vision to reality with Asia's leading corporate service provider.
More on Press Releases