8 minutes read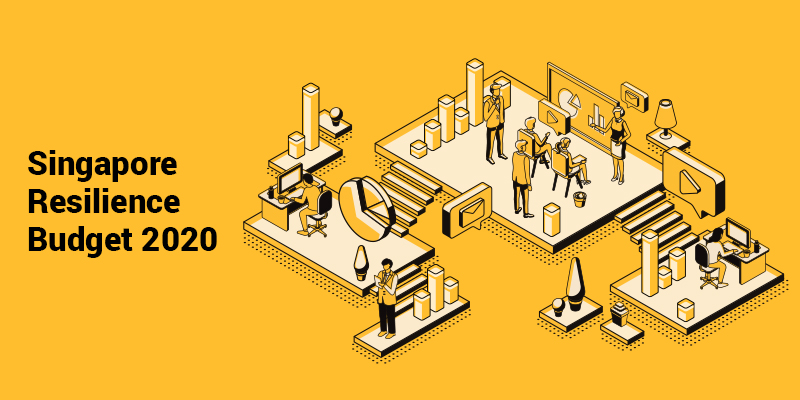 Singapore Resilience Budget 2020
Singapore's Finance Minister Heng Swee Keat while presenting the Budget 2020 in the country's Parliament on February 18, introduced a slew of measures amounting to $5.6 billion, to deal with the coronavirus outbreak.
That was then. Now, as Heng – who is also the country's Deputy Prime Minister (DPM) – noted in his speech in Parliament on March 26, "The outbreak has escalated quickly. Three weeks after my Budget speech, on 11 March, the World Health Organization (WHO) declared COVID-19 a pandemic, recognising the severity and risk of further global spread. Today, the WHO estimates that the number of people infected has exceeded 410,000, across more than 190 countries."
He was speaking on unveiling a $48.4 billion package – a Supplementary Budget 2020 or what is being called COVID-19 Resilience Budget – to support businesses, workers and families, as the country faces an "unprecedented crisis of a highly complex nature".
The COVID-19 pandemic is likely to have long-lasting economic repercussions, as the global economy faces demand and supply shocks, falling growth forecasts and rising uncertainty. Already, as per the figure released this week, the Singapore economy contracted by 10.6% quarter-on-quarter, or 2.2% year-on-year, reversing the 0.6% growth in the previous quarter.
Hence, pro-actively, the Singapore Government has decided to help Singapore companies stay afloat during the crisis, in six ways – capacity building; cash flow, reduced cost, and access to credit, for every company; resilience building; as well as some additional help for specific sectors affected by COVID-19.
How Singapore Resilience Budget 2020 is helping Singapore companies with capacity building
Enhanced Grants
The Government has advised Singapore companies to make use of this downtime to digitalise, restructure, and transform. As such, they can leverage the SMEs Go Digital Programme, Productivity Solutions Grant (PSG) and Enterprise Development Grant (EDG), which all have been enhanced and extended till December 2020.
These enhancements include:
SMEs Go Digital Programme will provide support for more digital solutions, from basic remote working tools, to more advanced systems.
Maximum support levels for PSG and EDG have been raised to 80% and 90% respectively to spur transformation.
Skills Upgrading
Moreover, companies can make use of the enhanced support for skills upgrading which will be provided in the following ways:
Course fee subsidies will be extended to the arts and culture and land transport sectors from 1 April, 2020. This is on top of enhanced training support for aviation, tourism, food services, and retail trade sectors previously announced in the February Budget.
90% absentee payroll rates will be extended to all employers, to provide additional cash flow relief when they send their workers for training, from 1 May 2020.
The duration of the enhancements will also be extended, to cover eligible courses starting before 1 January 2021.
---
How Singapore Resilience Budget 2020 is helping Singapore companies with business costs
Property Tax Rebate
Singapore Government has announced that the Property Tax Rebate announced in February will be enhanced, by raising the amount and covering more types of properties:
For 2020, qualifying commercial properties that have been more badly affected by the COVID-19 outbreak will pay no Property Tax. These include hotels, serviced apartments, tourist attractions, shops, and restaurants. This is a step up from the 15%-30% Property Tax Rebate announced earlier.
Businesses in other non-residential properties such as offices and industrial properties affected will be granted a Property Tax Rebate of 30% for the year 2020.
The Government has also made it clear that it expects landlords to fully pass on the rebate to tenants by reducing rentals, to directly ease the cash flow and cost pressures faced by tenants.
Rental waivers
Meanwhile, the following rental waivers have also been announced.
Tenants

Rental waivers

Stallholders in hawker centres managed by
NEA or NEA-appointed operators
3 months
(up from 1 month announced in Budget 2020)
Eligible tenants under government agencies
2 months
(up from 0.5 months announced in Budget 2020)
All other non-residential tenants
0.5 month
It has also been decided that all government fees and charges will be frozen for one year, from 1 April 2020 to 31 March 2021.
---
How Singapore Resilience Budget 2020 is helping Singapore companies with cash flow
Job Support Scheme and Wage Credit Scheme
An additional $500 million of wage credits under the enhanced support will be brought forward. Altogether, by end-May, a total of $5.6 billion, and by October, a total of $16.2 billion will flow into the hands of businesses through the Job Support Scheme and Wage Credit Scheme.
Deferment of Income Tax
Companies and self-employed persons will be granted an automatic deferment of income tax payments for 3 months. No application will be required.
| | |
| --- | --- |
| Businesses | Deferment of income tax payment due in |
| Companies | Apr, May and Jun 2020 |
| Self-employed persons | May, Jun and Jul 2020 |
| Employees | May approach IRAS if they need help with tax payments and wish to avail themselves to this arrangement |
---
How Singapore Resilience Budget 2020 is helping Singapore companies with access to credit
Businesses struggling with cash-flow will be receiving help from the Monetary Authority of Singapore, which is working with banks and insurers, for their loan obligations and insurance premium payments. The Government has also enhanced several financing schemes to ensure Singapore companies have access to credit during these difficult times, which are under:
To support businesses' trade financing needs, the Enterprise Financing Scheme (EFS) – Trade Loan will be enhanced, with the maximum loan quantum being increased from $5 million to $10 million, and an increase in the Government's risk-share to 80%, up from 70%.
Subsidies to businesses for loan insurance premiums will be increased from 50% to 80%, under the Loan Insurance Scheme.
The Temporary Bridging Loan Programme (TBLP), which was introduced for the tourism sector, will be expanded to all enterprises, and the maximum supported loan will be increased from $1 million to $5 million.
SMEs that require support beyond the TBLP can continue to tap on the EFS – SME Working Capital Loan. The maximum loan quantum for this will be further enhanced, from $600,000 to $1 million.
The Government will work with participating financial institutions to defer capital payments for one year on the EFS-Working Capital Loan and the TBLP loans if requested by businesses, subject to assessment by the institutions.
In addition to financing schemes, $20 billion of loan capital will be set aside in this budget. This will help to support good companies with strong capabilities, and catalyse private sector loan capital.
---
How Singapore Resilience Budget 2020 is helping Singapore companies in resilience building
SG Together Enhancing Enterprise Resilience (STEER)
As noted by the DPM in his speech, "At the industry level, all firms have a part to play in building economic resilience, as we prepare for recovery. This is why we introduced the SG Together Enhancing Enterprise Resilience (STEER) programme, which supports industry-led initiatives to help companies tide over today's economic uncertainties, and build longer-term capabilities."
Enhancing the scheme, Mr Heng announced that it has been decided that the Government will now match $1 for every $2 raised by Trade Associations and Chambers (TACs) or business groups for qualifying initiatives, doubling the earlier matching rate of $1 for every $4. "I encourage more TACs and industry groups to join us in helping the business community emerge stronger and better from this crisis," he said.
Funding support for specialised cleaning under SG Clean
Moreover, as the outbreak is a stark reminder of the need for good public hygiene, Mr Heng added, "The Minister for the Environment and Water Resources launched the SG Clean campaign in February to drive higher levels of personal and public hygiene, not just during the COVID-19 outbreak, but beyond. We are already offsetting the audit and certification fees for tourism, retail, and food services businesses participating in SG Clean. We will also co-fund businesses to undertake professional cleaning of premises which have experienced a confirmed COVID-19 case. The Ministry of the Environment and Water Resources will share more details in due course."
---
How Singapore Resilience Budget 2020 is helping sectors most affected by COVID-19
The Singapore Government has announced additional help for specific sectors most directly affected by COVID-19. Most important is the enhanced jobs support schemes will be rolled out for business in the aviation, tourism and food service sectors. Under these, for every local worker employed, a total of up to 75% wage offset for the first $4,600 of monthly wages will be provided.
Meanwhile, sector-specific details are as below:
Aviation

A $350 million enhanced aviation support package will be introduced to fund measures such as rebates on landing and parking charges, and rental relief for airlines, ground handlers and cargo agents.

Tourism

The Government has set aside $90 million to help the tourism industry rebound strongly when the time is right.

Transport

The Point-to-Point Support Package to help taxi and private hire car drivers will be extended and enhanced. Eligible taxi hirers and PHC drivers will continue to receive the Special Relief Fund payments of $300 per vehicle per month until end-Sep 2020. Private bus owners will be given a one-year road tax rebate and a six-month waiver of parking charges at government-managed parking facilities.

Arts and culture

The sector will be given an additional $55 million support package, to save jobs and support upskilling and digitalisation of the sector.
Now is the only time to enhance your business resiliency. Skip the hesitation and save your business from COVID-19!
Now is the only time to enhance your business resiliency. Skip the hesitation and save your business from COVID-19!