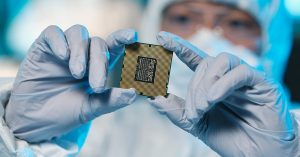 Singapore's semiconductor industry has grown in leaps and bounds in recent years, positioning itself as a key player in the global market.
The Lion City is now a hub for semiconductor manufacturing, attracting major companies and fostering a diverse ecosystem. Year after year, it has been ramping up its capabilities, becoming a pivotal player in the global semiconductor industry.
In this article, we explore six reasons why the Singapore semiconductor industry has been the right move forward – and why it makes a convincing argument for overseas firms to expand here.
A Diverse Ecosystem
Singapore's semiconductor industry boasts a diverse mix of global giants and small and medium-sized enterprises (SMEs) that span the entire value chain.
This includes major chip multinationals like Micron, TSMC, Marvell Technology, GlobalFoundries, United Microelectronics Corporation, Siltronic. It also has home-grown SMEs that provide design, prototyping, production, and testing services for semiconductors.
The semiconductor industry accounts for almost 7% of Singapore's gross domestic product (GDP), a testament to the significant role it plays in the country's economy.
As part of its ambitions to expand the manufacturing sector by 50% by 2030, Singapore aims to further grow its electronics sector, with the semiconductor industry as its backbone.
---
Attractive Investment Environment
Singapore's political stability sets it apart from other countries in the region, making it an attractive destination for any semiconductor company looking to diversify its manufacturing bases and supply chains amidst growing geopolitical tensions.
Singapore's favourable tax and regulatory environment, coupled with its investment incentives and competitive logistics costs, have made it an appealing destination for high-value-added manufacturing investments.
---
Competitive Capabilities
Singapore has established itself as a leader in wafer fabrication, assembly, and testing.
This competitive edge allows the country to capitalise on shifts towards Southeast Asia and attract investments from big players in the industry.
Singapore accounts for approximately 11% of the global semiconductor market share, and about one-fifth of global semiconductor equipment is manufactured here.
The country is also home to several major semiconductor equipment suppliers, further strengthening its position in the industry.
---
Intellectual Property Protection
Intellectual property (IP) protection is crucial for semiconductor companies to safeguard their innovations and maintain their competitive edge.
Singapore is considered "safe" from an IP perspective, offering a secure environment for these companies to operate and collaborate.
---
Local Industry Development and Collaboration
The Singapore Semiconductor Industry Association (SSIA) plays an essential role in nurturing local SMEs in the sector.
With around 200 members, 70% of which are home-grown companies, SSIA helps create opportunities for collaboration and learning between local companies and multinational corporations (MNCs).
Singapore's local semiconductor companies like AEM Holdings have established strong partnerships with global giants like Intel.
These collaborations contribute to the growth and development of Singapore's semiconductor industry and help local firms build their capabilities and expertise.
---
Growing Workforce and Talent Development
The semiconductor industry employs over 33,000 people in Singapore. With new investments on the horizon, it is expected to create at least another 2,000 jobs in the next three to five years.
This growing workforce highlights the industry's significance in Singapore's economy and its potential for further expansion.
To keep up with the semiconductor industry's rapid growth, Singapore needs to expand its pool of skilled workers, so the SSIA has been working on raising awareness about the industry and attracting younger talent.
In fact, during the SSIA-organised Electronics Industry Day, a new Semiconductor Active Youth programme was launched. This programme meets the SSIA's top priority of building a strong talent pipeline in the electronics sector.
Under this programme, leaders of major companies such as AMD and GlobalFoundries will hold one-on-one mentoring sessions with chosen youth ambassadors.
The SSIA and Institute of Technical Education (ITE) also signed a memorandum of understanding to enhance collaboration
Continuing education and training are crucial to future-proofing the current workforce, ensuring that they are well-equipped to meet the industry's evolving demands.
Related Read: What is the X Factor That Makes Singapore a Global Talent Hub? »
---
Moving Forward
In the future, companies that set up or expand their semiconductor businesses in Singapore can expect a supportive ecosystem and numerous growth opportunities.
The country's political stability, business-friendly environment, skilled workforce, and strong government backing will continue to make it an attractive destination for semiconductor investments.
As Singapore remains committed to nurturing talent, fostering innovation, and embracing Industry 4.0 and sustainability, it is poised to offer a thriving landscape for new and existing semiconductor companies.
By choosing to establish or expand their operations in Singapore, businesses can tap into a robust and dynamic ecosystem, well-positioned to meet the challenges and opportunities of the ever-evolving global semiconductor market.
Contact our team
FAQs
Over the past decade, Singapore's semiconductor industry has grown at a CAGR of 10.6%, and as of 2021, was the city-state's biggest manufacturing segment, providing 7% of its GDP.
Singapore is home to 14 world-renowned international semiconductor companies, which includes 9 of the world's 15 best semiconductor firms.
The fees vary depending on your needs. Contact our team today to find out more about the costs!
Expand your semiconductor business to Singapore with our professional help at InCorp!
More on Business Blogs