APAC CIO Outlook, a print magazine published from Silicon Valley, providing a platform for CIOs, CTOs and senior management in the IT community of APAC countries, has named Singapore's leading corporate service provider InCorp Global as one of the Top 10 Compliance Consulting/Service Companies 2019, in the entire Asia-Pacific (APAC) region.
InCorp, which as a group has been a partner of choice since 1998 for numerous multinationals when they have chosen to base their headquarters in the city-state, won this distinction for "delivering state-of-the-art technology solutions and helping enterprises garner comprehensive understanding and knowledge of the latest technologies in the compliance sphere which can optimise their business processes".
In particular, InCorp was praised for "leveraging technology, professional partner's network, and in-house expertise to ensure its clients remain effortlessly complaint at all times".
Commenting on the award, Atin Bhutani, CEO of InCorp – which also won Singapore's first Digital Innovation Award given by UOB recently – noted, "We aim to be a leading Pan-Asian corporate solutions provider, and a partner of choice to our customers for their business expansion needs internationally."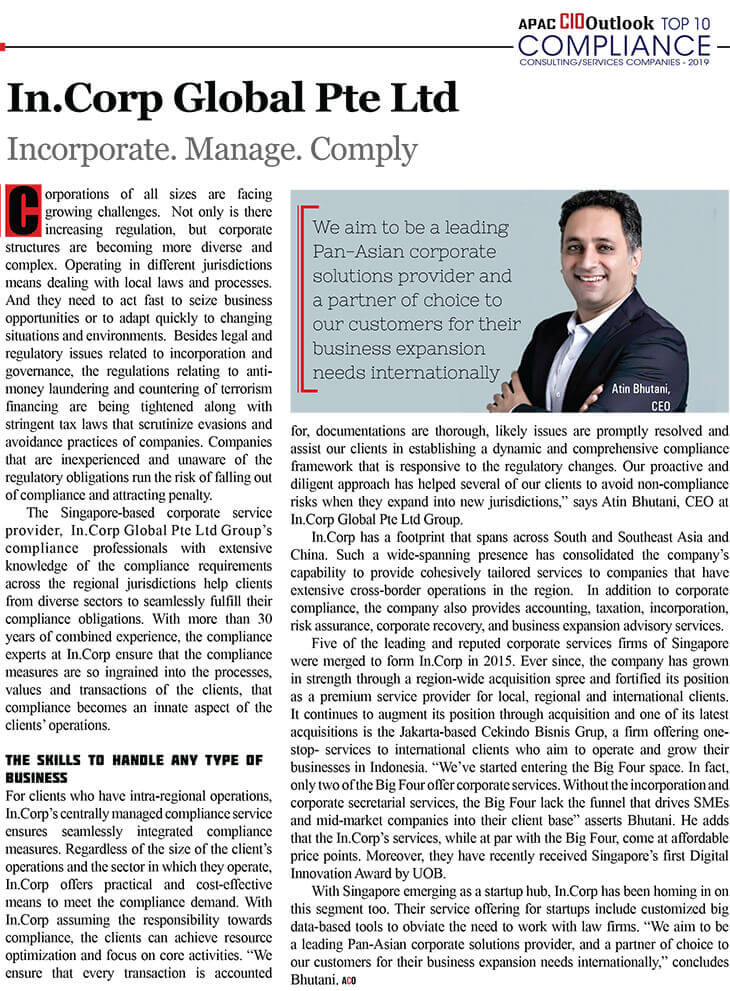 Access the Southeast Asian Market and Beyond With InCorp's Integrated Corporate Services Ecosystem
More on Press Releases